Do Your Dream | Cory Bordonaro
March 26, 2012
Hurrah!  It's finally time to kick off this Do Your Dream feature I've been harping on about for weeks.  My very first interview is with Cory Bordonaro, proprietress of Four Hats Press.  I met Cory when we were both editors at skirt! magazine back in 2008, and we became fast friends.  Since then, I've been delighted to watch Cory pursue her creative dreams with courage and gusto.
May I present, for your inspiration, Miss Cory Bordonaro…
Name: Cory Bordonaro
Age(ish): 26
Location: Birmingham, Alabama
Business name: Four Hats Press is a paper goods and letterpress business, specializing in custom designed and printed cards and invitations.
…
How did your dream begin? While working for a women's magazine, I sought out a local couple doing some letterpress work on a small printing press out of their home. I interviewed them for the article, but ended up falling in love with their process. The textures were so rich, the start-to-finish, so labor-intensive and beautiful. After our time together, they could sense my interest. They invited me back and taught me how to print.
Just weeks later, the magazine I worked for ended up folding. The story I intended to write never went to print, but my own journey with letterpress had just begun. I sought out other local printers and soaked up their expertise like a sponge. Because of my new freedom, I decided to take a work-study position at the Penland School of Crafts where I solidified some foundational printing skills over eight weeks in the breath-taking mountains of North Carolina.
When I came home to Birmingham, I picked back up with some local printers, and gained experience wherever, however, whenever I could. (That often included driving for two hours, printing for eight, and then making the return drive—all in one day). I was a woman on a mission to learn, to print, to pursue this art at any cost. And, it was adventure at its finest. I've met so many characters on this journey, so many people as generous as the two who first opened my eyes to this art. In the spring of last year, I was able to buy my very own printing press!
What was the thing that finally gave you the courage to start? You've heard this before…but it was losing my job! There's nothing like a wide-open schedule and a starting-from-square-one attitude to propel a person to pursue something that might sound senseless behind an office desk.
What has been the biggest surprise about owning your own business? I've been endlessly surprised at how people hear about what I'm doing. I'm not printing full-time (that is the dream, though!), but I've gotten a good bit of business from word-of-mouth.
Have you made any embarrassing mistakes? Oh, certainly. I did one wedding suite (we're talking 1000 pieces of the finest paper around, tons of labor, lots of ink) and didn't profit a single penny. I think I may have actually lost money on the whole deal. At the very beginning—and even still—I struggle with the pricing in a way that's fair, in a way that gives value to the work I'm doing, but without turning away customers with sticker shock.
What advice would you give to someone trying to get the courage up to start their own business? Amos Kennedy, one of my favorite folk printers out of Gordo, Alabama once advised me to do just what he's done: Find your bliss. Once you do, follow it.
What has been the single best investment you've made in your business? My press, of course. It's a beast at 2000 pounds, but it's proof that I've made a commitment to see this thing through. I call it Andy the Vandy (short for Vandercook—the model).
Is there anything you miss about life before being a business owner? I still kind of live in the best of both worlds with the security of a paycheck and benefits. So, I can't quite answer that. Ask me when my passion becomes my paycheck. I might have a different story…
What inspires you? Oh, so many things. I love the domestic arts—cooking, quilting, keeping a home. I'm constantly inspired by things that happen in the kitchen, be it the utensils I use to make a batch of scones, fresh ingredients or the act of gathering around a table to share a meal with friends. So many of my interests converge in that room of the house, so it's no surprise that many of my projects have had a culinary bent.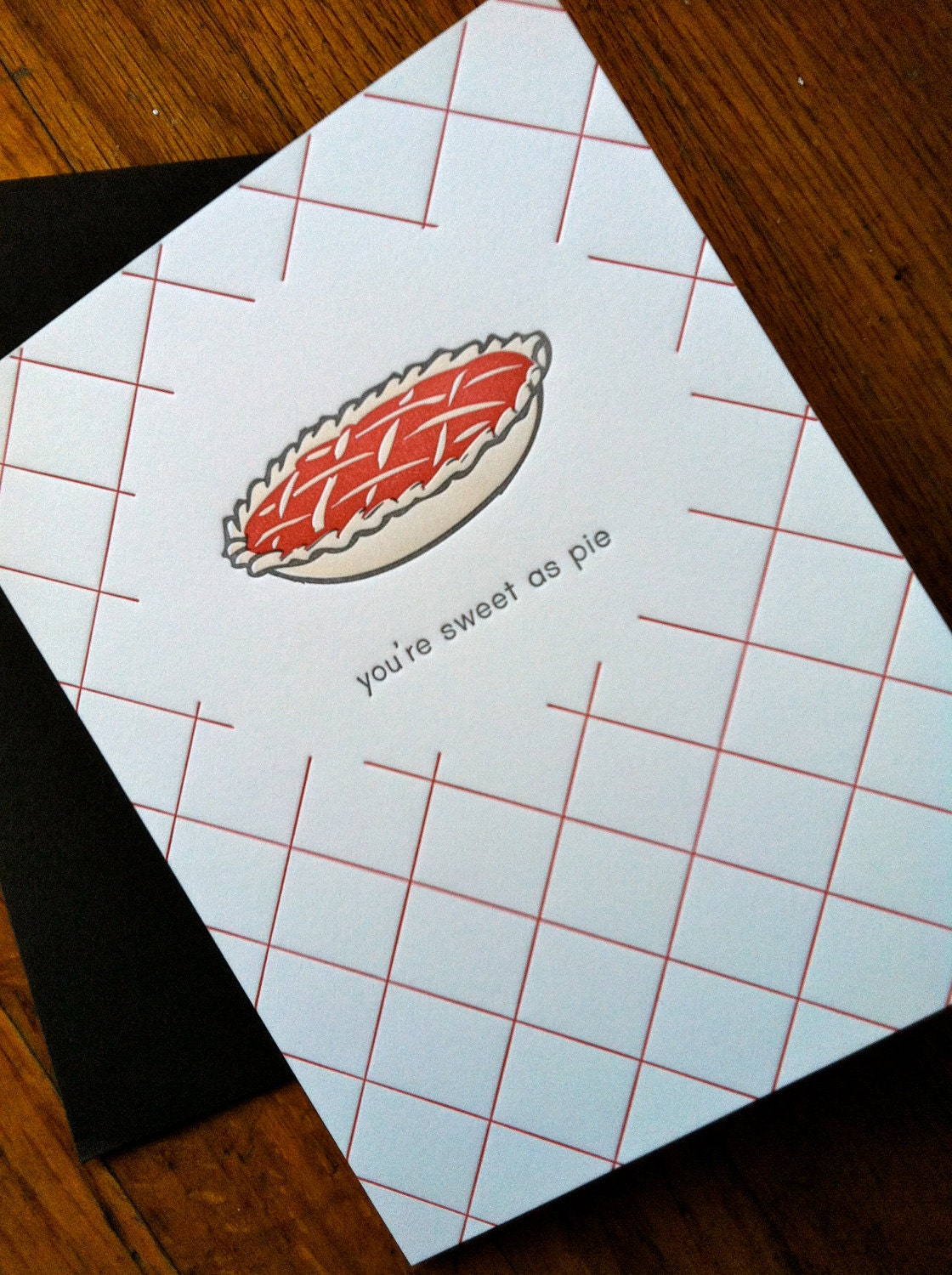 What has been your proudest creative moment? I think it had to have been that first risk to leave my life in Birmingham to pursue an education in the craft. The Lord proved faithful in the way that I would've never imagined. He totally paved the way for that to happen as it did.
Any artists/women/entrepreneurs/anyone you really look up to? Too many to count! I've learned a lot from printers/artists: Patrick Masterson, Beth Schaible, Bryan Baker, Amos Kennedy, Glen House, Katie Daniels, Sarah Pattison, among so many others. My stationery heroes are Anna Bond (of Rifle Paper Co. in Winter Park, FL) and Suann Song (of Simple Song and Studio Fifteen Eleven in Old Town Alexandria, VA).
How many hours a week do you work (be honest!)? On weeks during which I've got several printing jobs, I can go for 8 hours at the office, then come home and print two or three more. On a day of full-on printing, I can pull nine hours, easy.
You've got $100 extra to spend on something for your business – what's it going to be? Good question. I'm still organizing my studio, so it'd probably be something from Ikea. My goal is to set up a clean, orderly studio that just aids in the creative process. I want the supplies to be in neat stacks, but the details and personality of the space to lie in the vintage-y finds like old bookcases, frames, and containers.
What one thing makes your life so much easier? My bone folder—it's a piece of ivory that helps to create perfect scores and creases on greeting cards.
What are your top three priorities in life? Love and trust the Lord. Love and serve people in my life. Create.
What keeps you awake at night? Thinking of all the things I want to make, the ways that I can get to my goals, and what I'll spend my Saturdays doing.
Do you have a mantra, something you repeat to yourself?  I've had a lot of words really speak to me at different points in my life. Right now, I'm stewing on these words from Sanders Boehlke's song, "The Weight of Us":
Cast off all of your sins. The time has come, let us be BRAVE.
…
Quick-fire round:
Current favorite album? The Lion's Roar, First Aid Kit
What calms you? A slow breakfast
Accountant or DIY Finances? A little bit of both. I keep up with my own so that I can just hand the numbers off to a man who knows the system much better than I ever could.
Noise or silence while you're working? Music, all the way. The entire two months at Penland are set to the soundtrack of Hall & Oates. I even created a dance of sorts with the press to the tune of "She's Gone."
…
You can find Four Hats Press online at etsy.  
Or, if you're in Birmingham (USA, that is), at Urban Standard and City Arts Boutique.
…
Later this week, I'll be hosting a giveaway of some of Cory's so-pretty stationery, so check back in a couple of days to make sure you have a chance at it.
And don't miss next week's amazing Dream-Doer!