I'm Obsessed With ___.
January 10, 2012
In addition to working with the homeless, my cute husband is also a sound engineer.  In fact, that's what he studied in college, and what he did as a job for years.
He still does some recording and some live sound and, in fact, he's recording our friend Zoe Joy in our front room as. we. speak. Zoe Joy works with Simon, but she's also probably going to be a famous worship leader and/or songwriter at some point, so I just want to drop her name here, so when that day comes, I can be like, "Oh yeah, no biggie, she just drank orange squash in my front room while my husband recorded her first album.  Whatevs."
So anyway, I've been snapping some photos of ZJ (that's what we call her, you know, cause we're so tight) that I'm hoping to squeeze into her album cover, but now I've been banished to the kitchen while she records a vocal track.  So here I am, drinking a glass of pinot grigio and just about to tell you about some MORE things I got for Christmas that I totally love.  I'm not bragging.  I'm just really, really excited about this stuff.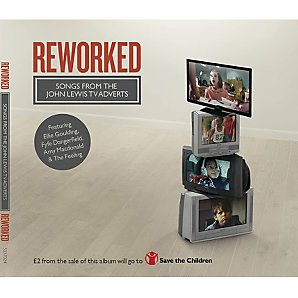 I completely forgot to tell you about this last week, and I really can't believe it, because I just love it so much.  Remember when I told you about this John Lewis commercial, and this one?  This is an album of songs from all the John Lewis commercials.  They're all sensitively done covers, and I'm just so in love with this CD.  Simon bought it for me.  Because he knows me so well.  The first time I listened to it, I sat in our big red armchair and cried.  It's that good.
My favourites are Ellie Goulding's cover of Elton John's "Your Song", and Fyfe Dangerfield's cover of Billy Joel's "She Always a Woman" and…
Oh, who am I kidding?  I love all of them.
This so-sweet headband HANDMADE by my friend Emily and mailed to me from the Windy City.  Emily also made Adlai's superhero cape.
My friends are ridiculous.
And speaking of that…
My gorgeous friend Sarah (who you know from here, and here, and here) sent me this lovely charm made from a vintage typewriter key…
…which I immediately threaded onto a silver chain and vowed to wear at all times.
Except for when I'm hanging it on my Christmas tree for a photo shoot.
I LOVE IT.
…
When I look at these things, not only do I see things I love, I see people who love me.  How blessed am I to have people like Simon, and Emily, and Sarah, who lavish me with gifts they've lovingly chosen (or made!)?
Friends and family like this just make life so, so rich.